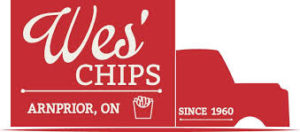 Wes' Chips, serving the best French fries in the valley for over 50 years.
Opening Hours
April 1st until Thanksgiving Monday
Open 7 days a week April: 10 am – 7 pm
May to Labour Day: 10 am – 8 pm
September to October: 10 am – 7 pm
Categories: Fast Foods, Food, Beverages and Catering
Current Hours: Open 7 days a week 10am - 7pm
Takeout & Delivery Details: Please be assured that we are taking extra safety precautions due to the Covid-19 Pandemic. Watch our website for addititional updates.